Methodology
The WorldWatchReport™ is an unmatched and unbiased market study based on a solid and field-tested methodology
Using proprietary DLG technology DemandTracker™, every online search related to the brand is monitored, including specific keywords, model names, etc. Once collected, this data is filtered, analyzed and translated into 14 intentions to properly decipher the needs of the online luxury watch clientele.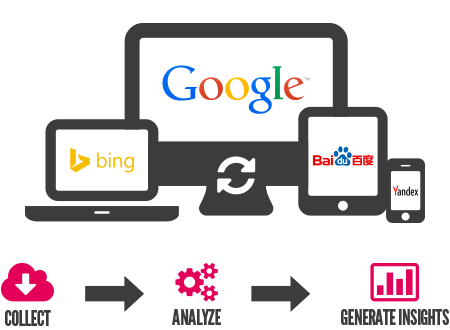 Search Engine Queries
To provide the most transparent and unbiased information about the luxury watch client, the WorldWatchReport™ tracks consumer behavior through the leading global search engines. Thanks to Digital Luxury Group's privileged relationships with the search engines and in-house developed technologies, an average of 1 billion client search queries are collected annually. Based on Google, Bing, Yandex in Russia and Baidu in China, the total amount of queries represent an average of 85% global search market share.


Languages
In order to accurately cover the global demand for luxury watches, the official languages of each market are used to track client searches. In total, twelve different languages are monitored: Portuguese, Russian, simplified and traditional Chinese, Taiwanese, Japanese, French, Italian, Spanish, German, Thai and Arabic.
Harmonization
As multi-products brands, such as Cartier, Chopard or Bulgari, may generate significantly more search volumes than watch-only brands, data is harmonized to identify watch-only demand and exclude searches for other products for example: "Cartier jewelry" or "Tag Heuer mobile phone" etc. Similar corrections are made for brands whose names have various associations such as Montblanc, Omega or Zenith.
Brands grouping
Thanks to the contribution and feedback from several watchmaking industry experts from the media, brands and retailers, the following criteria have been taken into consideration to define 5 coherent watch brand categories:
Brand positioning (market and target audience)
Offer (average entry price point)
Volume (similar volume of demand)
Competitive environment
Ambassadors and Models
Using in house business intelligence tools and third party information, more than 200 watch ambassadors and 1,300 luxury watch models are tracked to provide an overall picture of the luxury watch industry.
Social Media
Five of the major social media platforms are currently tracked by the WorldWatchReport™: Facebook, Twitter, YouTube, Instagram and Chinese Social Media platform Sina Weibo. Using Edashboard™, an in-house technology developed by the Digital Luxury Group, the evolution of the 62 watch brands has been tracked since the beginning of the social media development within the luxury industry.