The WorldWatchReport™ Benchmark
How Does it Work ?
The WorldWatchReport™ Benchmark is based on a sample of 85 million web sessions recorded from participating luxury watch brand websites.

Data is extracted from Google Analytics, anonymized, aggregated and harmonized in order to provide an exclusive industry benchmark.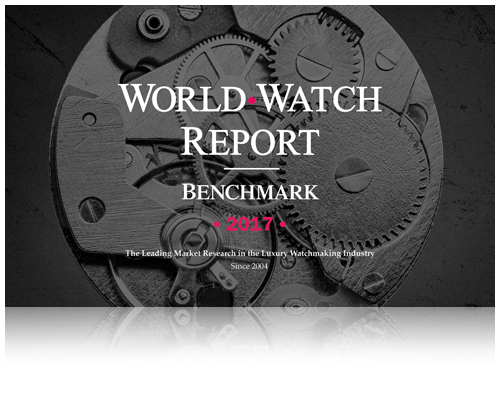 Highlights
The leading watch-industry report since 2005
The only report of its kind
Published by DLG, the digital partner of forward-thinking luxury brands
Based on over 85M sessions on luxury watch websites
Drives impact for participating brands: see testimonials
All data is 100% anonymized and stored securely in Switzerland
million website visits analyzed
Main Benefits
International
Covers 24 Markets
Powerful
8 Key Indicators
Free registration
for participating brands
Exclusive content
62 pre-selected brands
Insightful
for CXO's and digital executive
How Do I Join ?
If you are one of the
62 pre-selected brands
invited, you can join the panel to get the WorldWatchReport™ Benchmark (
yearly edition
).
1. Registration
Register your interest in joining the panel
2. Selection
If selected you will receive a contract that needs to be signed and sent back to officialize your panel entrance, and guarantee your data protection
3. Access
Your website team will need to grant DLG "Read & Analyze" access to your Google Analytics account (dlg.analytics@digital-luxury.com)
4. Integration
We will then anonymize and normalize the data and add it into the pool of participating panelist data to generate an industry average or 'benchmark'
5. Report
You will receive the full annual report, free of charge, allowing you to benchmark your performance against competitor brands
Why Should I Join ?
Luxury consumer behavior has changed, and as a consequence luxury watch brands are now heavily investing in digital; with up to 50% of total marketing budgets dedicated to it.

The WorldWatchReport™ Benchmark analyzes 8 strategic metrics, across 24 markets, to help Luxury Executives optimize their digital strategy, website effectiveness and drive-to-store activities.

FOR CXO's
Performance measurement / Strategic decision making…
How am I performing digitally compared to my competitors?
What is the commercial impact that I can expect from my digital activities?
How can I optimize the overall digital marketing ROI?
What are the channels that my brand (or brands) is currently under leveraging / could improve?
FOR Digital Functions
Compare to the industry…
What is my level of traffic and how does it compare to the industry, how fast is it growing vs. competitors?
How do I stand in terms of product and retail online engagement? Could I drive more traffic to the collections? To the store locator?

Is my digital advertising mix well balanced compared to the industry? Am I over investing? Under investing? On which channels (CPC, display...)
Where do I have growth opportunities? Can I invest more in specific markets to keep up with the competition
How does the industry stand in terms of mobile audience? How fast does it grow? Which markets represent the strongest mobile traction?
Which markets do I have the highest digital potential in? Where should I stop investing?
Indicators & Dimensions
The Annual "WorldWatchReport™ Benchmark: Yearly Edition" Dashboard includes the following metrics:
8 KEY INDICATORS
3 MAIN DIMENSIONS
24 Markets covered
See the complete list below
Traffic Sources
Organic, Direct, Referral, Social, Advertising
Advertising Channels
Display, CPC, Paid Social, Brandzone, Emailing
Markets : Australia, Brazil, Canada, China, France, Germany, Hong Kong, India, Italy, Japan, Malaysia, Mexico, Qatar, Russia, Saudi Arabia, Singapore, South Korea, Spain, Switzerland, Taiwan, Thailand, United Arab Emirates, United Kingdom, United States.
Eligible brands
WATCH & JEWELRY
COUTURE
PRESTIGE
HIGH RANGE
Join the panel to get the full report
Full report will only be delivered to brands joining the panel
Panel eligibility criteria
> Be part of the WorldWatchReport™ 62 eligible brands
> Sign the contract officially validating your panel entrance and guaranteeing your data protection
> Grant a reader access to your web analytics account